Nemira is a small coastal village, located on Omiš Riviera, 3,5 km away from Omiš on the road to Dubrovnik. Far from the city crowds and crowded traffic you can spend your vacation near the clean sea in the shade of the pine trees.
Private houses and apartments located on the beach enable you to reach the sea in seconds. Close by there is a travel agency, restaurant, pizzeria, two stores and several cafes.
For those who enjoy an active vacation there is rafting and kayak on Cetina, paragliding, surfing, sailing, diving, free climbing,…
From Omiš there are tours to nearby islands Brač and Hvar, and also to Split and Makarska.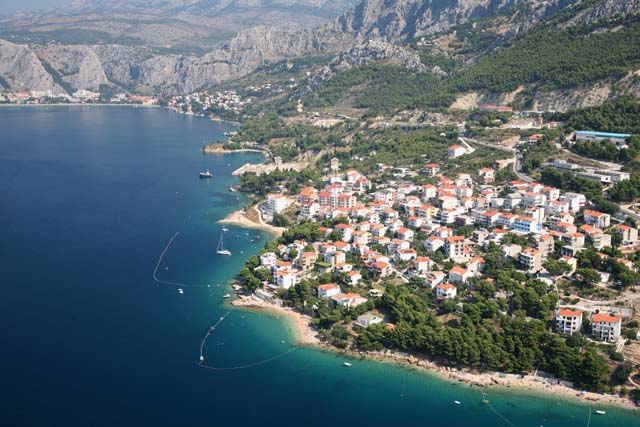 Key Information:
less then 2 km from the Omiš
connected with Omis with the promenade by the sea
lots of caffe bars and restaurants near the beach
long pebble beaches suitable for children
grocery store is in the village
Beaches:
We recommend to visit:
Omis in Croatia is a small Central Dalmatian town and harbour located between Split and Makarska, situated in the mouth of the Cetina river, surrounded with massive gorges. In the past Omis was notorious becuse of the pirates of Omis whose ships were a centuries-long symbol of retaliation, courage and strength. The evidences of proud and turbulent Omis history can be found on every corner of the Omis Riviera. Ancient town of Omis, Omis churches and Omis fortresses are silent stone reminders of the power and the might of infamous Omis pirates. Today, it is the center of Omis Riviera, one of the most beautiful parts of Croatia's Adriatic Coast. Situated in the heart of Dalmatia, with it's true Mediterranean spirit and diversities, Omis Riviera offers everything you need for an unforgettable holiday in Croatia.
Omis is best-known for the traditional Festival of the Dalmatian klapas. There is no doubt that Festival dalmatinskih klapa is the highlight of Omis's summer, the expression of the city's vitality… in short, its beauty. Also, Omis Summer Festival during which various concerts and recitals are performed at the squares and in churches (Omis has eight churches). Omis Cultural Summer has been enriched with concerts and recitals in churches and in the Closter of Franciscans Monastery, as well as performances on the squares, exhibitions and literary and music happenings.
Split is the second biggest town in the Republic of Croatia. It is an eternally young town which lives at its slow pace to which it is easy to adapt. The town is rich with historical sites such as : The Diocletian's Palace – heart of Split, Iron Gate, statue of Gregory of Nin, St. Duje cathedral, St. Frane church, St. Peter concathedral, Peristil, St. Ante convent and numerous other.
Makarska is one of the most famous tourist destinations on the Croatian coast. It attracts numerous foreign and domestic tourists with its historical sites (Franciscan convent, St. Mark church, town museum, St. FIlip church and St. Peter church) and beautiful beaches. Makarska offers cycling, sailing, jet-ski, basketball, hunting, soccer, volleyball, paragliding, hiking, rafting, fishing, diving and countless other activities to sports enthusiasts.